icddr,b announced as recipient of the Hilton Humanitarian Prize
icddr,b announced as recipient of the Hilton Humanitarian Prize
23 AUG 2017



The Conrad N. Hilton Humanitarian Prize is set to be awarded to icddr,b this year with $2 million in prize money in recognition of its innovative approach to solving global health issues impacting the world's most impoverished communities.
This is the largest annual humanitarian award in the world given by the USA-based Conrad N. Hilton Foundation, created in 1944 by international business pioneer Conrad N. Hilton, who founded Hilton Hotels and left his fortune to help the world's disadvantaged and vulnerable people.
"icddr,b has had a profound impact on health crises and breakthroughs worldwide," says Mr Peter Laugharn, President and CEO of Hilton Foundation.
"As we seek solutions to bridge global divides, the world can learn a lot from icddr,b - not just about vaccines, but about scientifically-researched approaches to public health problems that work," he adds.
The Hilton Foundation recognises that icddr,b's world-class facility in Dhaka has served for decades as a global hub for cutting edge research on enteric diseases although developing countries are not the first place people look to find a public health revolution.
Bangladesh Prime Minister Sheikh Hasina has congratulated icddr,b on this occasion and appreciated its decades of work in a letter, sent following the announcement.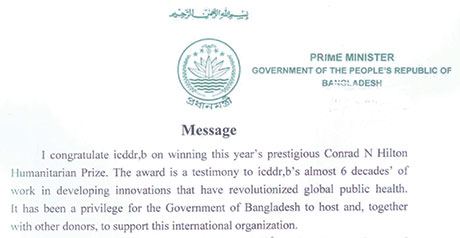 [Click to enlarge] Prime Minister Sheikh Hasina's letter of congratulation
icddr,b will receive the prize money in unrestricted funding, joining the list of 21 previous organisations that have received the Hilton Humanitarian Prize over the last two decades.
The health research institute will be honoured at this year's international Hilton Humanitarian Symposium and Prize Ceremony, which will take place at The Beverly Hilton in Beverly Hills, CA in October 2017.
"We are honoured to receive the 2017 Hilton Humanitarian Prize," says Professor John Clemens, MD, executive director of icddr,b.
"This will help support our current research efforts to move forward our in-house pipeline of new, low cost products and interventions addressing a wide range of public health problems in developing countries, including severe acute malnutrition and pneumonia in children, tuberculosis and life-threatening maternal haemorrhage during childbirth," adds Professor Clemens.
icddr,b began in an attempt to discover and develop realistic, scalable interventions for cholera and other diarrheal diseases, and has since grown into the world's largest diarrheal hospital treating more than 200,000 patients a year, almost all of whom recover within 36 hours.
Notably, its development of Oral Rehydration Solution (ORS), which treats the symptoms of diarrheal disease connected to cholera, has saved tens of millions of lives.
And yet, that is only a fraction of what this research institution has accomplished and continues to achieve on a daily basis. The organisation is currently working on a huge variety of investigations on health problems affecting people living in poverty in developing countries.
Its research includes evaluations of new vaccines and treatments for enteric and respiratory infections, new interventions for preventing and treating malnutrition, new approaches for detecting and containing emerging infectious diseases, new interventions to reduce maternal and neonatal mortality, and new approaches to achieving universal health coverage.
To this day, the institute continues to develop innovations to provide low cost solutions to resource poor settings.
Leave a comment
Comments will be approved before showing up.