Additional information on Direct Relief's Airlift to Puerto Rico containing CeraLyte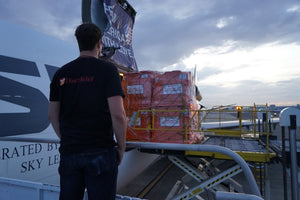 Puerto Rico Airlift

Today, Dierct Relief airlifted 150,000 lbs of urgently-needed medical resources to health facilities in Puerto Rico, where severe medical shortages persist one month after the devastation of Hurricane Maria.


The Direct Relief-chartered MD-11 cargo jet landed this afternoon in San Juan with $21 million (wholesale) worth of medications and supplies, including extensive quantities of intravenous solutions, nutritionals, and prescription medications for a range of acute conditions and chronic diseases like diabetes and hypertension. 

For more than eight years, Direct Relief has supported a network of nonprofit clinics throughout Puerto Rico on an ongoing basis. Prior to Hurricane Maria, Direct Relief had been coordinating with the Department of Health to assist with the medical evacuees from neighboring islands after Hurricane Irma two weeks prior.

Over the past two months, Direct Relief has delivered 148 tons of medications, vaccines, and medical supplies valued at $64.7 million (wholesale) in 560 emergency shipments to 143 partner organizations in Texas, Florida, Puerto Rico, USVI, and seven Caribbean countries. In addition, Direct Relief has provided and committed financial support in the form of grants totaling over $2.7 million to 43 nonprofit health centers and clinics and their associations in Texas, Florida, and Puerto Rico.

These relief efforts have been made possible due to the tremendous outpouring of generosity from partner healthcare companies to help support people as they recover from the impact of these massive storms.

Thank you for your support, and for being part of Direct Relief.


With heartfelt thanks,

Pat Bacuros
Director, Philanthropic Investment

Tom Roane
Director, Strategic Partnerships

Maris Watkins and Kathryn Spencer
Resource Acquisition Coordinators
Leave a comment
Comments will be approved before showing up.